Professional Hair Care Products
Plant Powered
Color & Keratin Safe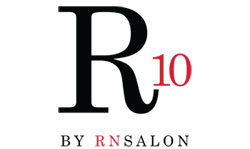 Our natural hair care products, with anti-aging, collagen-building, and thermo-protective properties, leave hair beautiful, strong, and manageable with lasting color hold.
R10 by RNSalon products, including shampoos, conditioners, leave-ins, and styling products, work to sustain hair's innate wellness and beauty, whether your clients' hair needs nourishment, moisture, taming, volume, or hold.
Our products use biomineral technology that contains a precise dosage of natural minerals and protein catalysts uniquely designed to achieve results you can see and feel every time you use one of R10 by RNSalon's hair care products. Read more about biomineral technology here!
All R10 by RNSalon hair care products are not tested on animals, and all packaging is recyclable.